Sierra Signs & Service Has Specialized In Custom Sign Fabrication,
Installation & Service For More Than 30 Years.
Founded in 1986 by Teri Davis, Sierra Signs has grown from a 2,000-square-foot storefront to a 15,000 square foot modern office and production facility located in Mesa, Arizona.
Owner, Teri Davis' grandchildren express what collaboration is really all about in the sign business, and in life. Collaboration relies on sharing and accountability to everyone in your family and among all others. Working as a team, everyone has an assignment of responsibility for getting results from a collaborative effort.
Sierra Signs has remained a locally owned, family business. As a full-service sign contractor, Sierra Signs has been licensed with the Arizona Registrar of Contractors for over 30 years, designing and manufacturing single signs to complete signage systems.
Sierra Signs maintains a variety of materials to accomplish timely production and delivery of all signs. Sierra Signs also has a highly skilled graphics department equipped with the latest in digital imaging technologies, computerized router, vinyl cutters and digital printers, all ready to help you create the perfect design.
In addition to employing a diverse and talented team of designers, artists and technicians, Sierra Sign's equipment includes bucket and crane trucks, supported by a fleet of service trucks, equipped with cutting torch, welders, and material to complete a project on time, including a service fleet of trucks prepared to install most any type signage.
Going beyond design, engineering and fabrication, Sierra Signs offers turnkey services from conception to completion, including permit acquisition, project management and post-installation maintenance.
With our vast history and experience Sierra Signs continues to be the first and only call you need to make to see your project realized.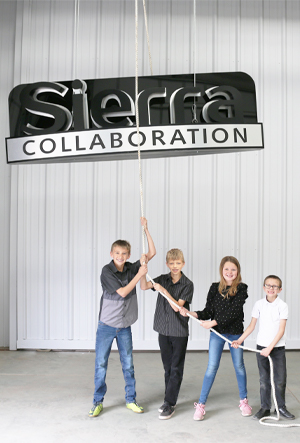 About The Owner– Owner, Teri Davis attended a sign lettering and design school in Minnesota and later taught there for two years before she established her own company in Arizona. Teri is a dynamic woman in our region who is among those distinguished individuals that contribute to our quality of life in business, civic, and service volunteerism.
Teri believes that success comes in many forms but is driven by equal parts of "Signs and Service." It includes anything from taking the first step into a new venture to making a career commitment to quality and customer service.
She says she is inspired on a daily basis by members of her community, her family and staff.  In turn, she strives to give back, hoping to provide inspiration and growth-promoting challenges    to others.
Teri's definition of success is simply to be happy in what you do.  "I feel a great deal of fulfillment in working with the public and being able to assist others with the success of their businesses.  My long tenure in the sign industry has enabled me to achieve personal satisfaction by assisting businesses through providing them a highly professional image."
She feels that the trust and respect she has been given by customers also offers her a good measure of success.